Second isicad Forum
PLM+ERP: Informational Environment of Modern Enterprise
Novosibirsk, Akademgorodok, Russia
31 May - 2 June


:: Organized by LEDAS Ltd ::

:: Supported by SibCongress ::

:: Supported by Sib3 ::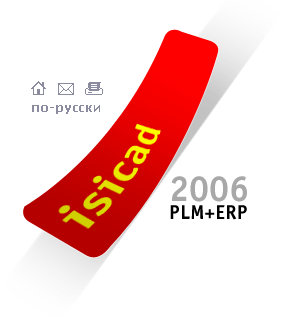 PLM and ERP Glossary
This glossary contains brief definitions of about 30 terms that can be most frequently encountered while describing computer-aided activity of manufacturing enterprises. Today, such activity is primarily understood as application of product life-cycle management (PLM) and enterprise resource planning (ERP) that, in their turn, consist of component-subsystems mentioned in this glossary. Most of the terms used in the domain of industry automation have stable English abbreviations that since recently are widely used in Russian technical texts. Therefore the Russian version of the glossary is built as an English-Russian dictionary: each English abbreviation is initially explained in English, then it is directly translated into Russian, and finally is described in less than 100 Russian words. The English version below presents only English explanations of English terms.
AEC CAD, Architecture Engineering and Construction CAD
BOM, Bill of Material
CAD, Computer-Aided Design
CAE, Computer-Aided Engineering
CAM, Computer-Aided Manufacturing
CAPP, Computer-Aided Process Planning
CAx, Computer-Aided
CIM, Computer-Integrated Manufacturing
CNC, Computerized Numerical Control
CPD, Collaborative Product Development
cPDM, collaborative Product Definition Management
CRM, Customer Relationship Management
CRP, Capacity Requirements Planning
Digital Manufacturing
DMU, Digital Mock-Up
DNC, Distributed Numerical Control
ECAD, Electronic CAD
EDA, Electronic Design Automation
ERP, Enterprise Resource Planning
HRM, Human Resource Management
MCAD, Mechanical CAD
MDA, Mechanical Design Automation
MES, Manufacturing Execution System
MPM, Manufacturing Process Management
MPS, Master Production Schedule
MRP, Material Requirement Planning
MRP II, Manufacturing Resource Planning
PDM, Product Data Management
PLM, Product Lifecyle Management
Rapid Prototyping
SCM, Supply Chain Management
List of references