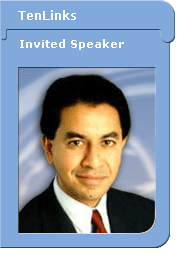 2D to 3D
When will the revolution be over?
Why are most users still doing 2 dimensional design. 3 dimensions was supposed to revolutionize design, both for mechanical design and architecture.
Mr. Tara explores some of the reasons why 3D is still a wish rather than a reality, including a lack of leadership by software vendors (one in particular), difficulty of use, lack of education, and more. He will provide an insight into the current state of the industry and what the future may bring, as well as suggest how software vendors can help bring the 3D revolution to a desirable conclusion.
Autodesk Dominance - Is it Permanent? (discussion session)
AutoCAD has been the market leader since the 1980's. It has endured competition but with little or no impact. This is despite a program that even Autodesk would admit is not a technology leader. Other CAD programs have offered more innovative features, are easier to use, even cheaper. Yet, AutoCAD has 80% of the market.
Mr. Tara offers an analysis of the market and reasons for the AutoCAD sales leadership. Included is Autodesk's history from the first days with John Walker to its present state with Carol Bartz. He provides examples of competitive challenges - and why they failed. How does Autodesk plan to ensure its success and are there any vulnerabilities for CAD vendors to exploit?



Roopinder founded TenLinks.com based on the simple principal that ten links picked by experts is far more valuable than ten thousand picked by the typical search engine.

Roopinder has over 18 years in technology, having held positions of general manager at IMSI, editor in chief of CADENCE magazine, department chair/professor of engineering and design, CAD manager and senior engineer. He has authored numerous publications on CAD, design, engineering and education. He has earned a Masters degree in engineering.