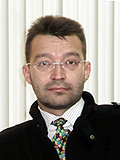 Vladimir Malukh
Director for PLM services and sales
LEDAS
avenue Lavrent'ev, 6
Novosibirsk, 630 090
Russia
phone: +7 383 335 65 04
fax: +7 383 335 62 56
E-mail: vmalukh@ledas.com
Vladimir Malukh has over than 20 years experience in the development of CAD/CA, Product Lifecycle Management (PLM), Product Data Management (PDM), information technology (IT) architectures, program management, aerospace engineering, and technology-based business solutions, including computer-based engineering applications, enterprise systems management, document and content management systems. He has held senior positions in CAD development and marketing, solutions development, consulting, program and group management, and is currently the Director for PLM services and sales LEDAS, Ltd.
His experience includes evaluating corporate engineering and manufacturing operations, managing CAD/CAE/PLM programs, recommending collaborative and concurrent engineering and product information management solutions, implementing PLM solutions, and developing and evaluating requests for proposals. Mr. Malukh has developed and delivered PLM competitive analysis seminars and training, executive management education and has reviewed and evaluated PLM solution suppliers programs and product suites.
Prior to joining LEDAS Vladimir Malukh served as Technical Director at ProPro Group, Inc., a company founded by him and his colleagues. He was an architect and technical leader of commercial project bCAD — a mid-range CAD solution for wide range of users. On all three generations of the product Vladimir was responsible for all aspects of its development — business planning, technical design and development of main system and applications, customer relations organization, licensing and training. During over than decade the project succeeded in hundreds of industrial solutions and developments in vary areas — from electronic mockups for aerospace and boatbuilding design to complete PLM solutions in furniture, woodwork, architecture, and CAD-education courses for universities. During 1992-1994 Vladimir worked for ERP companies in Germany and Britain as a senior software developer. In the late 1980s Vladimir was involved into ambitious government-funded Kronos project, where he was developing CAD solutions, later eventually transformed to bCAD business.
At the start of his career, being a military engineer he was doing research and engineering analysis work in the fields of computer fluid dynamics and high-speed stress modeling in favor of aircrafts battle survivorship. Mr. Malukh holds an engineering degree in aircraft and rocket construction (gas dynamic impulse devices) from Novosibirsk State Technical University. His doctorate in computer science on CAD-application interaction in complex PLM-systems is from the Institute of Informatics Systems, Siberian Branch of the Russian Academy of Sciences. He has over than thirty publications in CAD-related press, he's one of the coauthors of recent PLMpedia book, he writes monthly analytical reviews for isicad.ru portal and is one of principals of biennale iscad forums since 2004.