Second isicad Forum
PLM+ERP: Informational Environment of Modern Enterprise
Novosibirsk, Akademgorodok, Russia
31 May — 2 June


:: Organized by LEDAS Ltd ::

:: Supported by SibCongress ::

:: Supported by Sib3 ::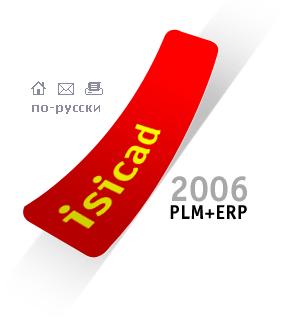 isicad-2006 was held 31 May through 2 June!
WHO is WHO in PLM and ERP
We present a list of solution providing companies to whom (in particular) the isicad-2006 organizers sent invitations to the Forum. The same list (based on CIMdata, TenLinks, CAD/CAM/CAE Observer, "SAPR and GRAFIKA", and the web sites of the companies) is interpreted by the isicad organizing committee as a list of the leading world and Russian companies that work in CAD/CAM/CAE/PDM/PLM and in the key subdomains of ERP. We apologize for probable lacunas and mistakes and for sure expect your cooperation in overcoming them, thank you.
PLM/ERP providers
Russian PLM/ERP providers
Analysts and mass-media
Russian analysts and mass-media
WHAT is PLM & ERP

We publish a PLM-ERP glossary and a list of references to the articles of review and analytical genre. Later on, some Russian publications will be presented in English and vice versa. Your cooperation in adding relevant papers and in correction of our mistakes is definitely welcome.
Banners
120x60 HTML:
<a href="http://isicad.ru/2006"><img src="http://isicad.ru/2006/isicad2006_3.gif" width="120" height="60" alt="isicad-2006 Second isicad Forum PLM+ERP: Informational Environment of Modern Enterprise, Novosibirsk, Akademgorodok, Russia, 31 May — 2 June" border="0"></a>
120x45 HTML:
<a href="http://isicad.ru/2006"><img src="http://isicad.ru/2006/isicad2006_2.gif" width="120" height="45" alt="isicad-2006 Second isicad Forum PLM+ERP: Informational Environment of Modern Enterprise, Novosibirsk, Akademgorodok, Russia, 31 May — 2 June" border="0"></a>
100x100 HTML:
<a href="http://isicad.ru/2006"><img src="http://isicad.ru/2006/isicad2006.gif" width="100" height="100" alt="isicad-2006 Second isicad Forum PLM+ERP: Informational Environment of Modern Enterprise, Novosibirsk, Akademgorodok, Russia, 31 May — 2 June" border="0"></a>





| | |
| --- | --- |
| | TALKS: PLM+ERP INTEGRATION |

Ken AMANN


CIMdata
PLM — Expanding to Be a Strategic Business Initiative

Andrei IOUDINE


HP
Designing adaptive IT-infrastructure of modern enterprise: concept, technologies, solutions

V. E. SAMOGAEVA


Borlas
Product Lifecycle Cost Management

Anton SINSKI


Sun Microsystems
New Sun systems for PLM and ERP solutions

Alexander TIMOSHIN


Appius
Appius-PDM: A Practical Technology for Integration of PLM and ERP data

| | |
| --- | --- |
| | TALKS: PRODUCT LIFECYCLE MANAGEMENT |

V.I. ABAKUMOV


UGS
Strategy of UGS PLM product line development

Artem AVEDIAN


SolidWorks Russia
SolidWorks - the standard of 3D

Francis BERNARD


Dassault Systemes
PLM: see and share what you mean

Abdelaziz BOURAS


University of Lyon, France - and National Institute of Standards & Technology, USA
PLM results and challenges

A. BYCKOV


ADEM
ADEM as a base stage of CALS technologies

Xavier GOURDON


Dassault Systemes
Dassault Systemes: Passion for Innvovation



A.Yu. GRAFOV, A.V. DAVYDOV


UGS
PLM software openness — the key of market success



V. KLIMOV, V. KLISHIN


PTS
Product Development System — new approach of PTC to create integral engineering environment

V.N. KON'SHIN


TESIS
FlowVision software solution for fluid dynamics



Sergey KURAKSIN, Sergey KOZLOV


Top Systems
T-FLEX CAD/CAM/CAE/CAPP/PDM Product Line



S.N. KURSAKOV, A.A. AKSENOV


TESIS
Dassault Systemes ecosystem and possibilities of multy-disciplinary problem solving with ABAQUS and FlowVision

Vladimir LEYBENSON


IMS Software
IMS: Recognized leader in NC postprocessing solutions and services. Proven, mature, robust.

I.V. MATVEEV


TESIS
3D TransVidia sofwtare solution for correct import of geometric models

Yu. NATCHITOV


ASCON
PLM system as an information basis for automation of industrial enterprise

| | |
| --- | --- |
| | TALKS: ENTERPRISE RESOURCE PLANNING |

Maxim EROKHIN


SoftLine
Microsoft Dynamics CRM 3.0 — improve competitiveness and efficiency of your business!

Alexey NASAKIN


SAP
SAP solutions for Engineering

Valery MATALYTSKI


PARUS
Management of modern enterprise with IT. Principles of enterprise system PARUS

Igor YAKOBSON


Kompas
Computer-aided quality management in ERP system Kompas

| | |
| --- | --- |
| | TALKS: MANUFACTURING APPLICATION |

| | |
| --- | --- |
| | TALKS: NEW TECHNOLOGIES |

Alexey ERSHOV


LEDAS
The LEDAS computational components for developers of PLM and ERP systems



V. FROLOVSKY, V. LANDOVSKY


Novosibirsk State Technical University
Computer-aided clothing design

Sergey KOZLOV


Top Systems
Parametric Design in T-FLEX CAD 10

A.N. LIPATOV


Russian Federal Nuclear Center
Using relational database as information kernel of integrated ECAD



Vladimir MALUKH, Victor BLINOV, Alexey VINOGRADOV


ProPro Group
CAD user-interface on Tablet PC



Valery RUTKOVSKY, Marina RUTKOVSKAYA


Krasnoyarsk State Technical University
Compression of Polygonal Models into NURBS